How to start a WordPress blog in 4 simple steps
Last updated on August 1st, 2018
In this post, I will show you step by step how I started my WordPress blog in 4 simple steps:
Select a domain name

Sign up a web hosting services

Pick a theme and setup WordPress on Bluehost

Launch my new blog
Step 1. Selecting a domain name:
Domain name is your blog name. Example: exploringim.com, that's the domain name that I have registered. Domain name is just like an address for me to inform my friends or clients where my website located. It is important as it describes who I am or what my business represents.
Selecting a perfect domain name might not be that easy anymore as most of the good name has been chosen by others throughout the years.
Nevertheless, I try to think out of the box and think of a name that is short and easy to remember.
If still no idea, I will use the following domain name generator for inspiration:
Simply enter a few keywords and it'll create thousands of combinations of synonyms, similar words and categorized wordlists.
All I need is to click on the "Get Name" button, and it will generate different name every time.
Shopify Business Name Generator:
I can use Shopify Business-name-generator to search for the perfect name for my blog or business.
Here are tips regarding choosing a domain name extension if you are interested to know. It is best to choose .com .net or .org. The reasons are those other crazy extensions are not widely known and your client or reader might find it difficult to find you.
Step 2. Setting up a web hosting services
Just follow the images I have provided below and I will show how I set up the web hosting services.
First, I  click this link www.bluehost.com to open in a new tab.
Welcome to Bluehost homepage. In this page, you see some of their offer such as Free domain name, 24/7 support and 30 days money back guarantee.
To begin, I click on the "get started now" green button to get started.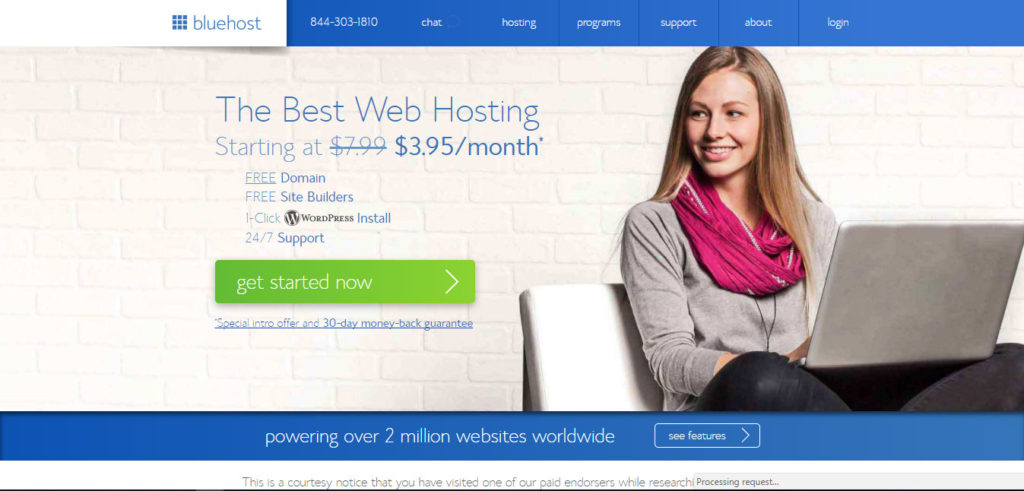 I am now at the "select your plan" page. This is where I will choose my hosting plan.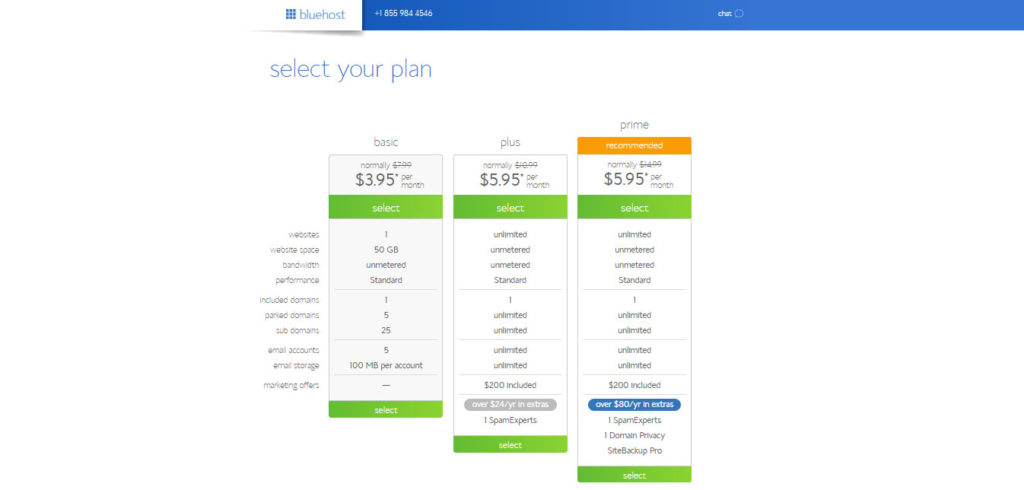 As I can only afford the cheapest offer. Thus, I selected the basic package.
After I choose my hosting plan, the next step will be checking whether my domain name is available – use the box on the left: "New domain". As I have already checked beforehand that it is available. I key in the name and click next.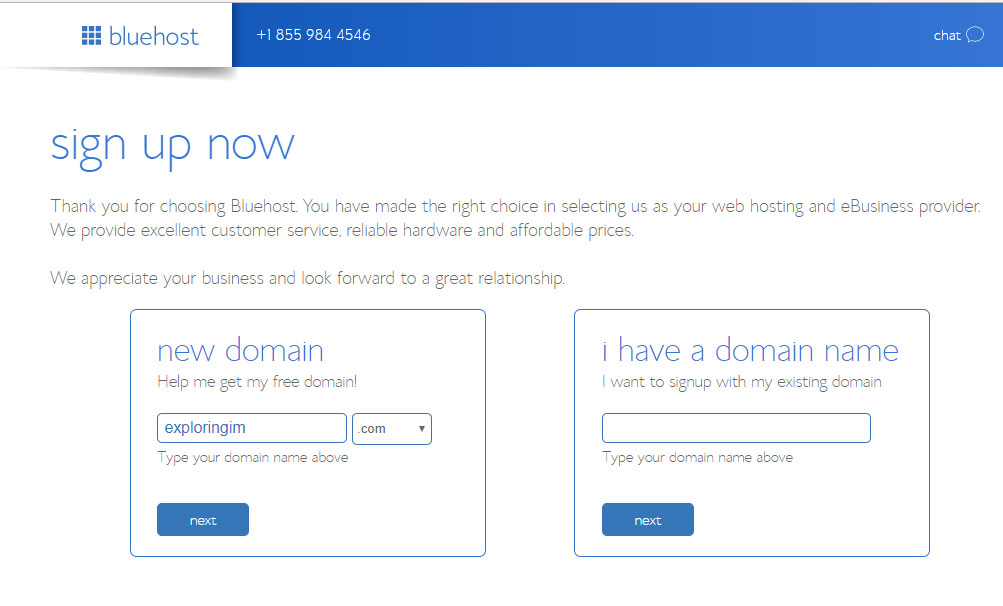 If you want to signup with your existing domain name, you can use the box on the right: "I have a domain name" and click next.
I will then be transferred to the "create your account" page where I fill in my account detail. I can also choose to sign up using my google account.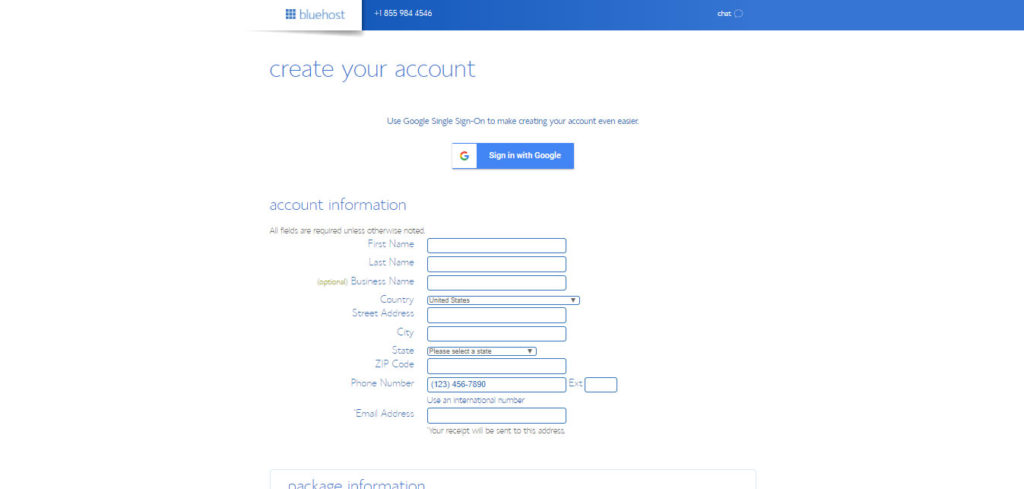 Next, scroll down to select my hosting plan.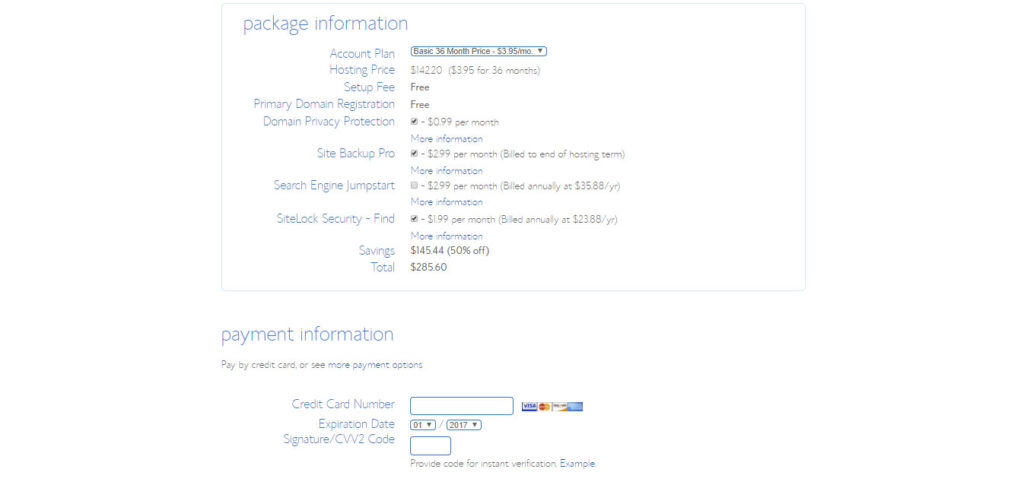 What! Do I really need to sign a 3 years plan for the cheapest package? That's what I was thinking at that time! I realized that in order to get the cheapest plan, I need to commit 3-years. At that point, I hesitated for a while. I hope you understand, I am a beginner and on a low budget, it's a lot for me. Then again I thought to myself, will one year be enough to see result from my blog? Signing 3 years plan its also a commitment to myself that I am serious about this. One thing for sure, I can terminate with Bluehost anytime and get a full refund for the reminding months of my plan.
Tips: Want a Special sign-up offer? You must be patient! When you are on the sign-up page, wait for about 5 – 8 minutes. This notice will appear. Click on claim saving to enjoy the special offer.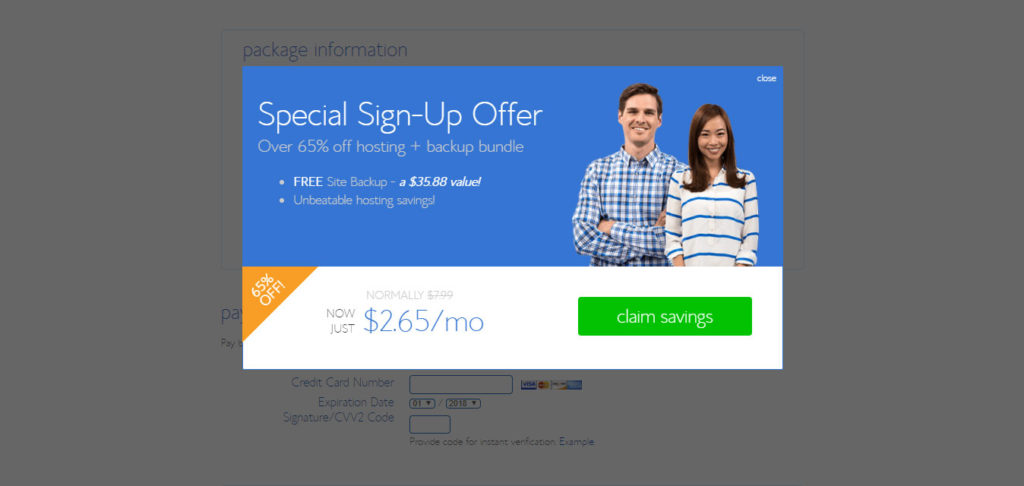 That's how I save more.
Note: I did add the "domain privacy protection" to my order as I did not want my information to be shown in the Whois database. This is what happened when a domain is registered, the owner of that domain and the registration information for that domain goes on the whois database which is managed by ICAAN who governs all domain registrars.  Spammers and telemarketers will use this information from whois database and start calling and texting the domain owner. By getting the "domain privacy", your information will be blocked from those public databases. Hopefully, this extra information will help you.
Once I decided the package, I fill up the payment details and click "submit".
Congratulation to me! I am now a proud owner of a new blog.
In order to log into my Bluehost account, I now need to create a secure password.

Type in my password, accept the term of service and click "Next".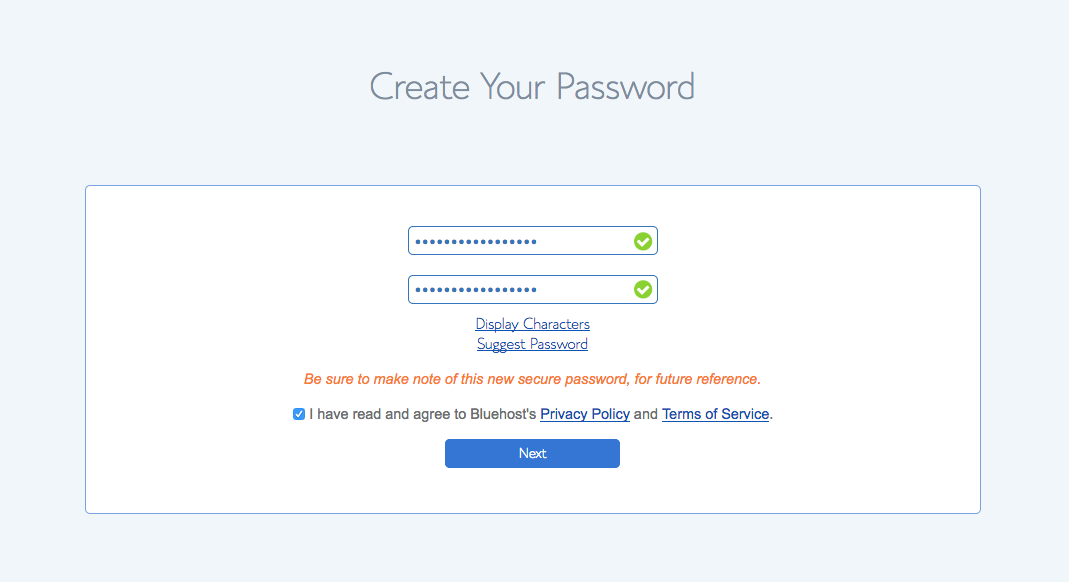 Now I can use my newly created password and click the "log in" button to log into my Bluehost account.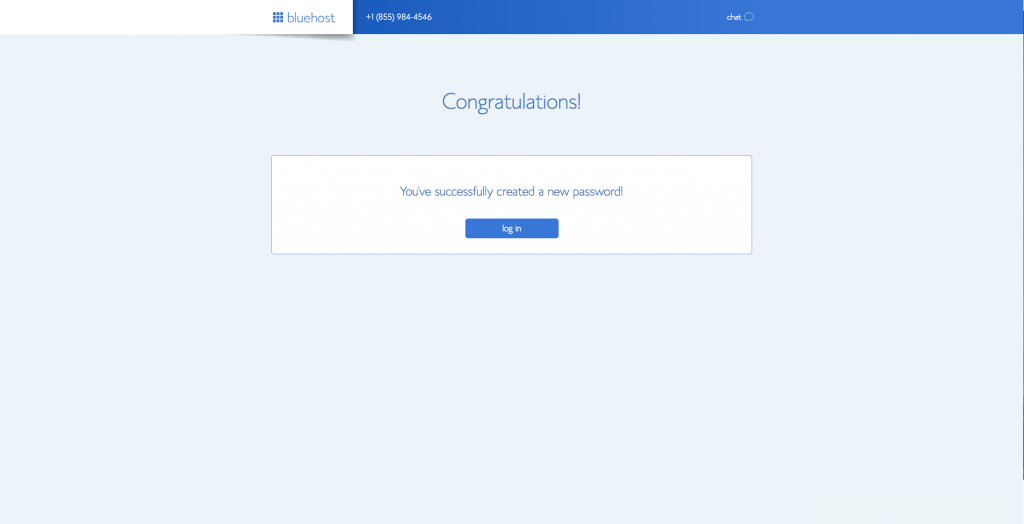 Step 3. Pick a theme and setup WordPress on Bluehost:
Now is time to set up WordPress in Bluehost and start my blog.
Picking a theme for my blog is fun to me. There are so many choices. The best part is, it's all FREE. Browse through it and get some inspiration.
Note: You can skip this step if you want or change the theme later if need a raise.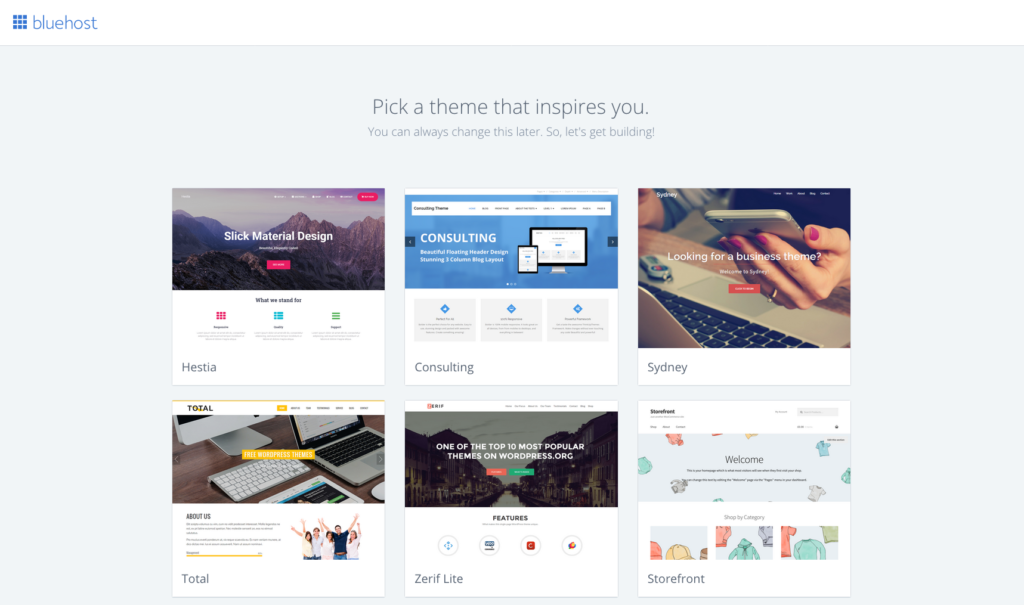 Now I have picked the theme, its time to build with WordPress.

This is WordPress admin. Select Business or Personal. For me, I selected "Personal" for my blog.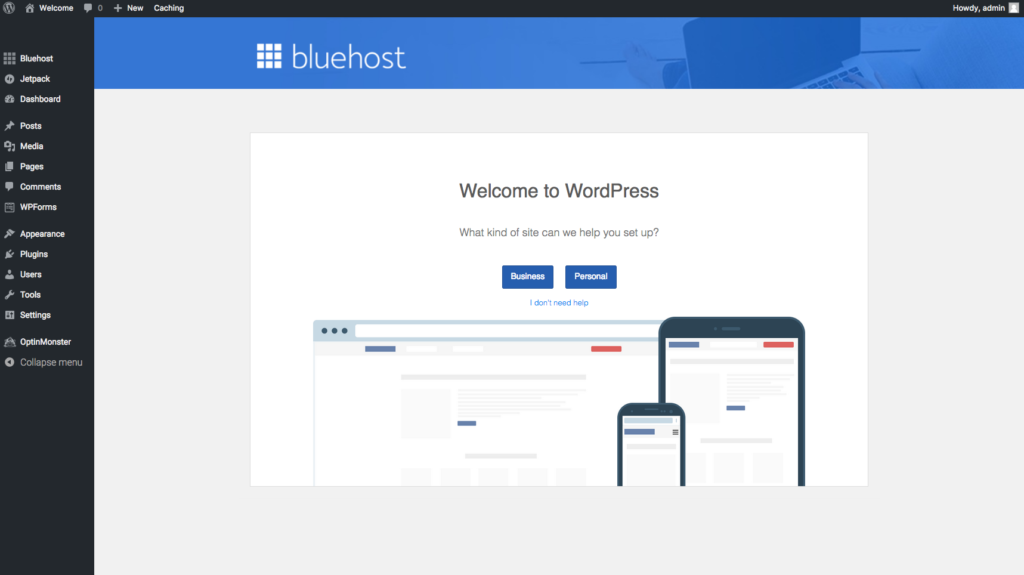 Step 4. Launch my blog:
Next, I will fill in my site title and site description. I don't think too much about this, as I can change it later on. Once done, click "next step".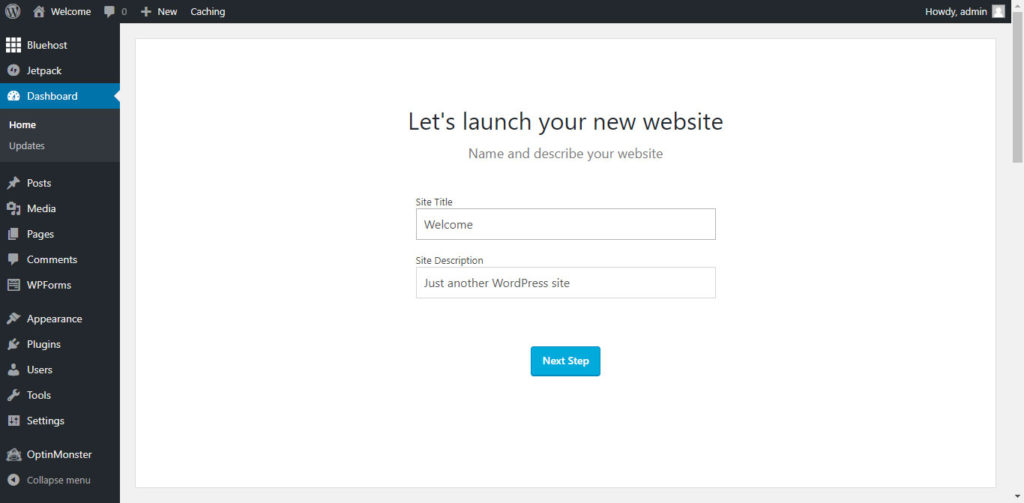 This is my Bluehost Simplified cPanel. Here I can set up my webmail, FTP and manage my Bluehost hosting account. To access my blog, I just click "Log into WordPress".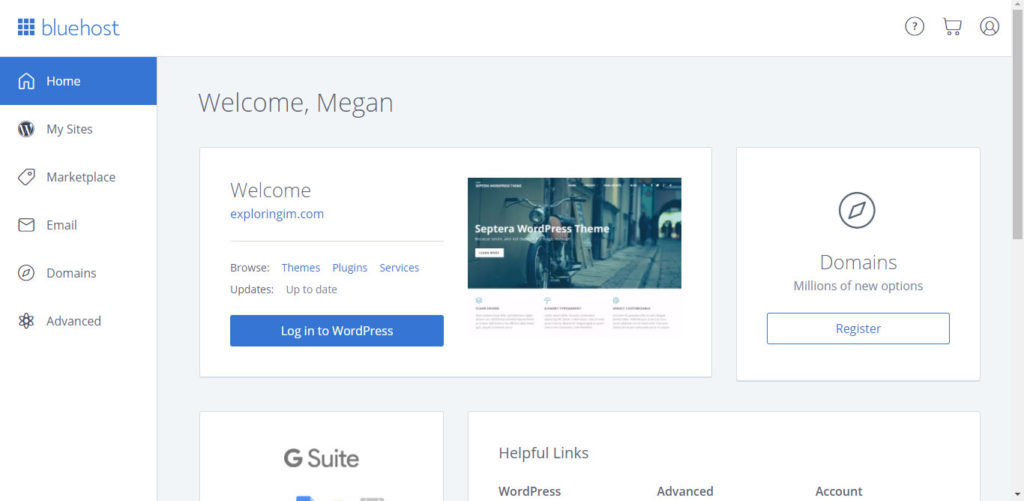 That's it! You have just seen me successfully started my blog with 4 simple steps.  
Have you not yet started? Save more, click here www.bluehost.com and access my instance discount.
Related posts:
Disclosure: I sometimes use affiliate links to products that I recommend, this means that, at zero cost to you, I may earn a commission if you buy something through my links.
Spread the love, share with your friends
---