How To Register A Domain Name For Free
Last updated on April 15th, 2019
Before I start my blog, I have to think of a domain name for it. Domain name is like an address for you to inform your friends or clients where your website located. It is important as it describes who you are or what your business represents.
Can You Register A Domain Name For Free?
The answer is YES! That's what I did.
The web hosting company Bluehost I signed up for is offering a free domain name, Free SSL Certificate for WordPress, plus it comes with a free email account. The cost to start a blog is affordable too. At less than $4 per month, you can start building your very own blog.
I do not know of other web hosting company that offers the same. Since I am going to start a blog, I must as well get a web hosting company that offers me a free domain name. As I was thinking about this, a thought came into my mind:
What if, I want to change my web hosting company in the future. What will happen to my free domain name?
This was what I found:
If you register a domain with Bluehost when signing up for a hosting account, there is a domain fee that is non-refundable. This not only covers our costs but ensures that you won't lose your domain name. Regardless of the status of your hosting service, you'll be free to manage it, transfer it after any required lock periods, or simply point it elsewhere at your convenience. You retain ownership of your domain until the end of its registration period unless you elect to extend it.
Thus, I do own the domain name which is good to know.
If you are like me, planning to start a blog, I would like to recommend you to Bluehost to enjoy a free domain name plus free email accounts.
On top of that, I must say that their support is great! That was what I have experienced during the initial stage. As you see I am very new to this. Their online support is 24/7 and even if you are not located in the USA, like me (I am from Asia – Singapore), you can still chat with their trained, in-house expert online during your local time and have your problem solved almost immediately. They are friendly and helpful.
I believe having a great support is one of the reasons why they have hosted more than 2 million websites worldwide. Change your mind after signing up? No problem Bluehost comes with 30 days money back guarantee too.
Do not have a domain name in mind? No worries, you can still signup now and Bluehost will give you a – Free domain name credit – an $11.99 value. When you reach the "sign up now" page, wait for a while and this message will pop up. See below: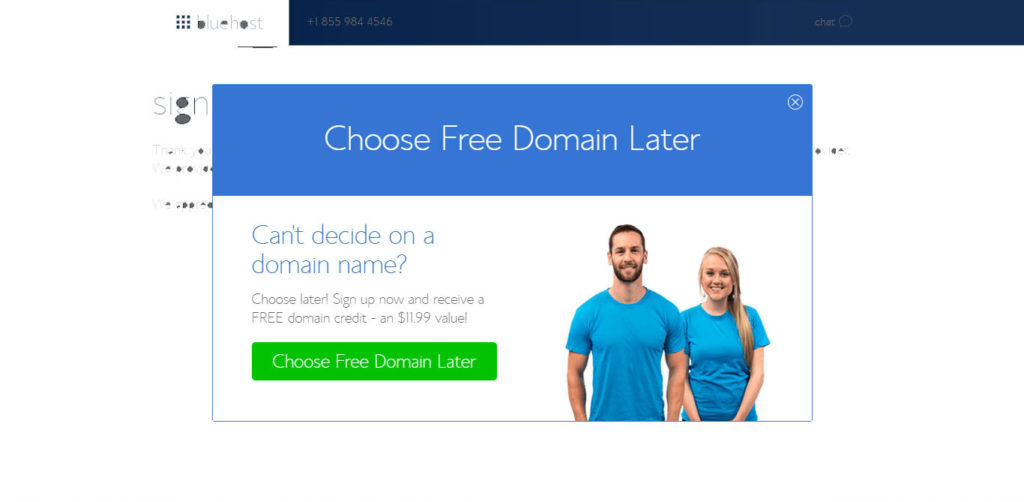 There might be others web hosting company that is reliable and offer the free domain name which I do not know. If you know, do share with me in the comment box below. Thanks in advance.
Ready To Start? Click here Bluehost to get your Free Domain Name and Free Email Account Today!
Related posts:
Disclosure: I sometimes use affiliate links to products that I recommend, this means that, at zero cost to you, I may earn a commission if you buy something through my links.
Spread the love, share with your friends
---