How To Make Money With A Blog For Beginners
Last updated on March 9th, 2019
How to make money with a blog for beginners like me? This is the question I have when I embark on this blogging journal earlier this year. I must say there is so much to learn and so many things to do.
Are you here because you want to find out how bloggers make money blogging? If you are, welcome! I will do my very best to share with you what I have learned so far, my affiliate earning and hopefully, you will find it useful too.
Before I share about how to make money with blogging as a new blogger, let's talk about what you need first.
Disclosure: I sometimes use affiliate links to products that I recommend, this means that, at zero cost to you, I may earn a commission if you buy something through my links.
What You Need To Start Making Money Blogging:
#1 Need A Blog
To talk about making money blogging, it is obvious that you do need a blog.
Between a free blog and a self-hosted blog, I would recommend you to start a self-hosted blog. My reason is very simple: You have full control over it.
What I mean in full control are:
You are the true owner of your own blog

Have a unique domain name which your audiences can relate to

Able to monetize your blog anywhere and anyhow you want

You are not restricted by the number of plugins and themes you can use for your blog
If you are serious about making money blogging, my advice is to start a self-hosted blog. As for the free blog, you will never know what kind of policy changes will there be in the future and hopefully, it will not affect your blog or else all your effort will go down the drain.
For a self-hosted blog, I recommend Bluehost. It is very simple to start. You can read about it at:
How to start a WordPress blog in 4 simple steps
#2 Have Your Own Domain Name
A domain name is around US$10. If you sign up with Bluehost, they are giving it free with every hosting service you sign up. I have blogged about it in my post: How to register a domain name for free.
#3 Be Focus And Keep it Simple
For your new blog is best to keep it simple and be focus on your blogging journey.
You aim is to bring your blog to reach a point where you can start making money blogging. A lot of new bloggers spend too much time in designing their new blog, looking for the perfect color and theme for their blog. This includes me too. 🙂
For a new blog, the main focus is to write great content and get traffic to your new blog. You can set an achievable goal for your blog, such as:
If your blog just started, you can set a target of 100-page views. Do continue to write content and promote your posts. Once you achieved your first goal, you will then focus on your next goal which is a 1,000-page view, 10,000-page view and so forth.
Want to learn how to get traffic to your blog? You can read more here: Secret of driving massive traffic to your new blog.
So, How To Make Money With A Blog For Beginners?
#1 CPC Or CPM Ads
Placing advertisements on their site is one of the common ways bloggers make money with their blog.
CPC Ads: Cost per click advertisement is also called Pay Per Click advertisement. Banners are placed in your content or sidebar. You will get paid when your readers click on the advertisement.
CPM Ads: CPM advertisement is also called Cost Per 1,000 impressions. You will get pay with a fixed amount of money base on how many people view your advertisement.
Google Adsense is one of the popular examples of this type of advertisement. Google Adsense does not have a minimum pageviews requirement but they do have their own terms. Do take note before you apply.
Nowadays, a lot of bloggers is looking at getting into the Mediavine network. To get approval with all of their ad partners you need to have at least 25k sessions per month.
Thus, a lot of new bloggers are focusing on creating great contents and promoting it so that they can meet the 25k sessions per month to get into this network.
Another network is AdThrive. AdThrive require 100,000 monthly pageviews and not be blacklisted with Google Adsense in order to apply
Bloggers saw an increase in revenue after joining one of these networks.
Suggested Read:
#2 Affiliate Marketing
Adding affiliate link on your blog content is another great way to monetize your blog.
Affiliate marketing is a way to earn commission from promoting other people's or company's products. When you find a product that you love or like, share it or promote it on your blog. Get paid for every sale you made. The good thing is it does not cost anything extra to the buyer at all. That is how affiliate marketing work.
When is the best time to add an affiliate link to your content? There are different views regarding this question. I believe there is no right or wrong whether you add it from the start or later. It's a personal choice. Thus, I decided to add the affiliate link from my very first post.
The very first affiliate I joined is my own web hosting company Bluehost. Super easy to join.
What other networks that are beginner's friendly? Here are some of the networks I have joined so far:
All the above mention networks commission are base on per sales accept Shop Style Collective which is base on per click.
Having a blog does have your advantage as some affiliate network company does require you to have a blog in order to approve your application. Once you are approved to the network, you can apply for the products that you are interested to be affiliated to. You can offer the affiliate products at your blog or at all your social media accounts.
I bet you would like to know how is my affiliate result, right? To be honest, as of now, I am only making sales and clicks on Awin and Shop Style Collective. No result for the rest yet.
This is my result on Awin. Consider I started it in mid-March this year.

Here is my result for Shop Style Collective. Did not do very well on this network as I have given all my focus on Awin network.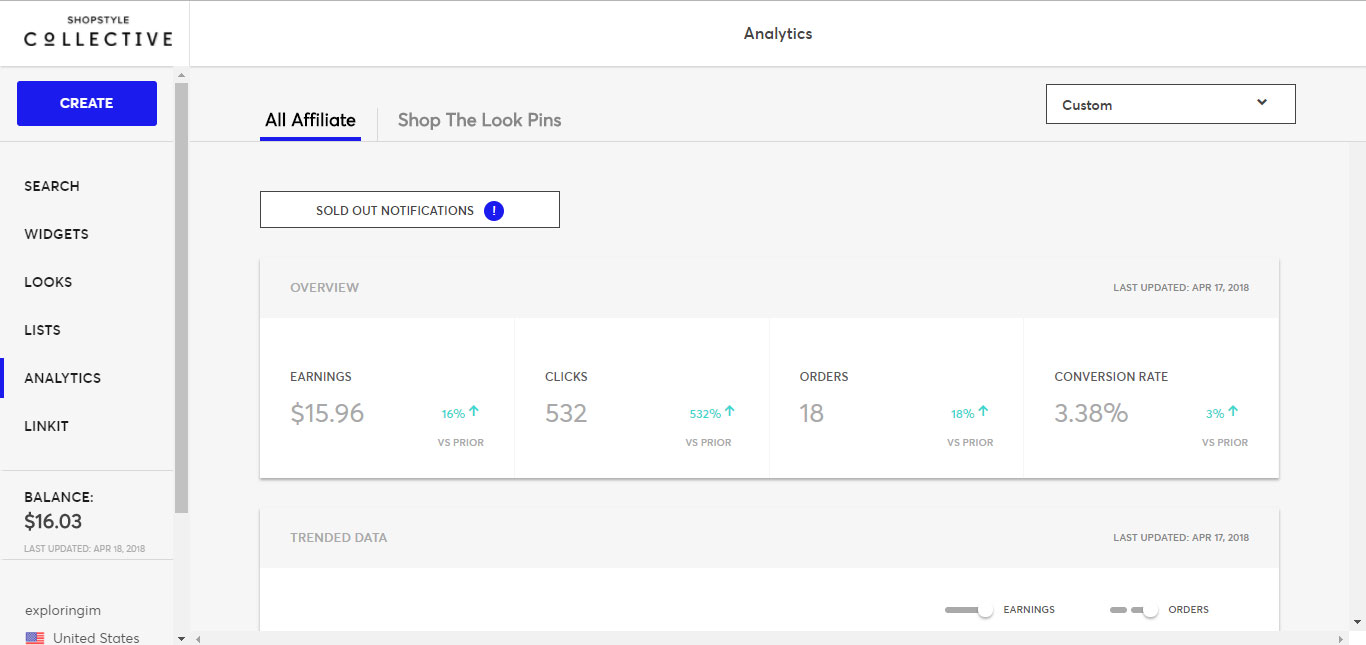 Shop Style Collective does not require you to have a blog to get approval. Therefore, if you do not have a blog, you might want to consider Shop Style Collective to start your affiliate journey.
Two Other Ways To Monetize Your Blog
Once you have built up your blog traffic and your email subscribers, you can consider monetizing your blog with the following method:
#3 Selling Your Own Digital Products
Creating your own digital products to offer to your audiences is another way to monetize your blog.
This can be in the form of:
E-book

Online courses

Photographs/Video/Music that people can use for their blog or projects

Design website theme / Mobile Apps / Plugins
Do remember that when you creating digital products it has to be of value to your audiences.
#4 Selling Advertisement Place On Your Blog / Sponsor Posts and Brand Partnerships
Sometime advertisers might contact you direct showing interest in placing an advertisement on your blog. This is a great way to monetize your blog too as there is no middleman and you can set your own ad rate.
You can even contact advertisers directly if you think their products or services can provide value to your audiences. Sponsor posts and brand partnerships is another popular way bloggers used to monetize their blog
Final Words:
This is the 4 ways how bloggers make money with a blog. You as a blogger will get to decide how much you want to earn every month. You can use all 4 ways or just 2 ways.
>>> Ready to start your own blog? Use our exclusive BlueHost link to get started today for as little as $3.95 a month. PLUS, you'll get a free domain, FREE SSL Certificate, and easy 1-click WordPress installation.
To further understand how bloggers actually made money with their blog. I have analyzed their income report to let you have a clearer picture how they do it. You can read about it: How much money can you make from blogging.
Blogging resources you might need:
Related posts:
Spread the love, share with your friends
---