How to Make Money on Pinterest With Affiliate Links
Last updated on April 15th, 2019
Can you make money on Pinterest? Sure you can and I am making it right now!
This is my result so far considering I started this at end of March this year and not very active at it. It is still making money for me even though I did not pin any product lately.
Total earned so far: $63.27 + $186.59 -$5.00 = $244.86. ($5 is the registration fee you need to pay when you sign up with Awin, no worries they will refund you in your first commission payment.)

Are you searching for ways to earn money online? Are you looking for extra $50, $100 or even more to subsidy your monthly household expenditure? You might want to consider Pinterest as your additional source of income online. Moreover, it's Free.
Starting a blog is another great way to make money online. You can read more about The Top 4 methods bloggers used to make money with their blog.
Interested to start a blog? It is very simple to start. You can read about it at How to start a WordPress blog in 4 simple steps.
One thing I need to make clear to you is that this is not a get rich fast thing. You do need to work hard for it. If you are looking to get rich fast, this is not for you!
Let's Start From The Beginning
Pinterest is not just a social network. It is like Google, it is a Search Engine.
In the past, Pinterest removed affiliate link due to spammers abusing them but in 2016 they changed their policy and allow affiliate link again.
Pinterest reported that they have more than two hundred million people each month on Pinterest looking for ideas to discover, save and do.
Pinterest is growing. According to them:
40% more people than last year

93% of pinners used Pinterest to plan purchases

67% of pinners say they have discovered a new brand or product from business content on Pinterest

1 of 2 people have made a purchase after seeing a promoted pin
You can read more here.
Now, How To Get Started With Pinterest?
The first thing to do is open a Pinterest account. Here is the link to get you started: Pinterest.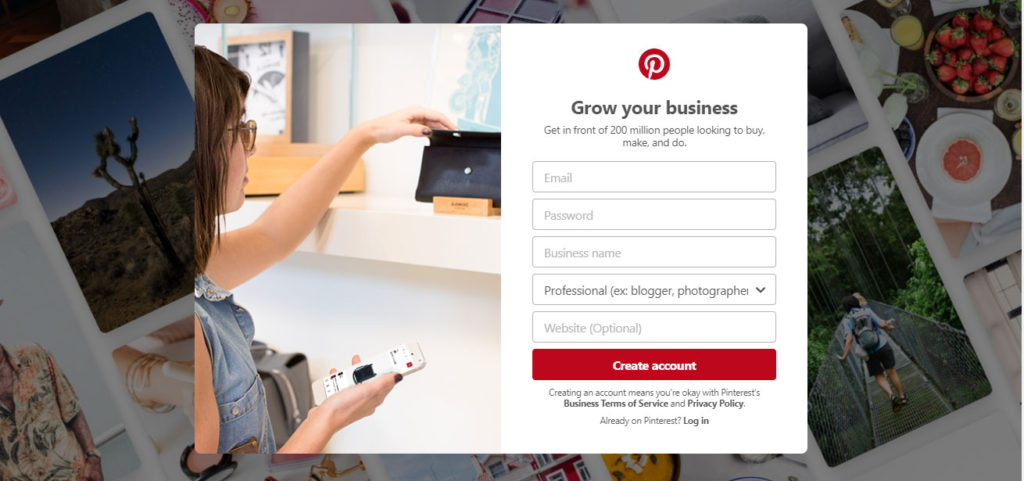 Key in your Email, Password, Business name (a name for your Pinterest page) and for Professional you can select "online marketplace or others". The website is optional.
Once you click "create account", Pinterest will walk you through. Do not worry too much about the "interest" you need to select, all this can be changed after you set up your account. You can watch the video below to have an idea how to set up your Pinterest account.
Once your account is up, its time to create your boards.
Here is a video which I find if very informative, it shows you how to set up a Pinterest board, how to search for what product to offer on Pinterest and what keywords to use. This video is from Erika.
In this video, Erika does miss out two important points:
When you link your product to Pinterest, on the product's description board, you need to disclose that it is an affiliate link by adding #ad, #affiliate, #afflink at the end of your product description.
NEVER NEVER shorten the affiliate link when you link your product to Pinterest.
Join Affiliate Networks
Once you have your Pinterest board set up, its time to join some Affiliate networks. Do note that some of the affiliate networks does need you to have a blog in order to apply and some do not have this requirement.
This a great network to join. I have made some affiliate earning from this network. To join this network, you do need to have a blog to apply and there is a registration fee of $5 when you sign up. Awin will refund you the $5 in your very first commission payment.
Share A Sale is another network you might want to check out. Just like Awin, you do need a blog to apply.
Share a Sale has many products to offer, such as home and garden, business, clothing, education, automotive, accessories, and Book/Media etc.
To join US Amazon Associates you definitely need a blog. If you do not have a blog, you can join Amazon Associates UK.
The plus point to join Amazon Associates is that they are already worldwide known and are trusted by many.
Whether are you able to promote US Amazon products directly on Pinterest is still a question that there is no answer. If you visit Pinterest, you can see a lot of people who are promoting it directly. Some say can while others say cannot. Thus, promote at your own risk.
As for Amazon UK, if you are using your Pinterest account to apply, when they approve you, that means you can promote directly on Pinterest.
Shop Style Collective is the very first network I joined. When I signed up a few months ago, you do not need to have a blog to apply. All you need is your Pinterest URL to apply to this network.
Shop Style Collective just launch their CPA (Cost Per Acquisition). Thus, their requirement might be different right now but is still worth trying.
Shop Style Collective offers a lot of products such as fashion, pet products, kitchen products, home and decor, etc.
You do need to have a Paypal account in order to receive their payment.
Creative Market offers ready-to-use design assets from over 26k independent creators. You will earn 10% of every purchase for an entire year from all new customers you refer to Creative Market.
According to Creative Market, their products sell very well on Pinterest. You do not need a blog to join their affiliate program.
MoreNiche specialises in products such as Beauty, Bodybuilding, health and weight loss. You will earn up to 50% per referral on wide varieties of products. Do not need a blog to sign up.
Reward Style is quite similar to Shop Style Collective but with more products to offers. To join, you have to be invited but if you are an influencer, you can apply online to join. Do not need a blog to join just use your social media URL.
If you just started, you can K.I.V. this network and join them when you become an influencer.
Suggested Read:
How To Make Money With A Blog For Beginners

How to make money with a blog for beginners like me? This is the question I have when I embark on this blogging journal earlier this year. I must say there is so much to learn and so many things to do. Are you here…
Accepted into the Affiliate Networks
After you are accepted into the affiliate networks, here is what you can do:
Read about what Pinterest audience is looking for on Pinterest, read here to have a better idea. You can also use the method taught in the video to search for product trend.

Make a list of products that you think your target audience might needs.

Search to see if there are an affiliate program that offers these products.

If there are, apply to the affiliate program.

Once you are approved, get your affiliate links for those products and start putting on Pinterest.
Design Your Pin
For your product pin, take Amazon for example. You can follow Erika and pin directly to Pinterest or you can design a pin for the product so that your pin can stand out from the rest of the pins.
Here is an example:
To create the pin, you can use an online photo editor to design your pin. Below are two online photo editor that is used by a lot of bloggers.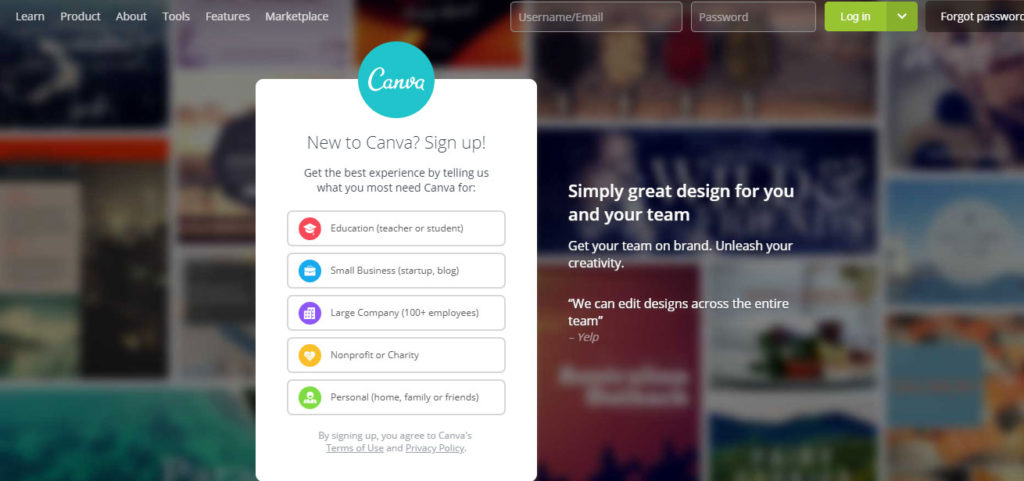 I love Canva! It is free!
I have used it to create pins and PDF files. Very easy to use. You can upload your own picture too. The free version does not allow you to change the size of the pin.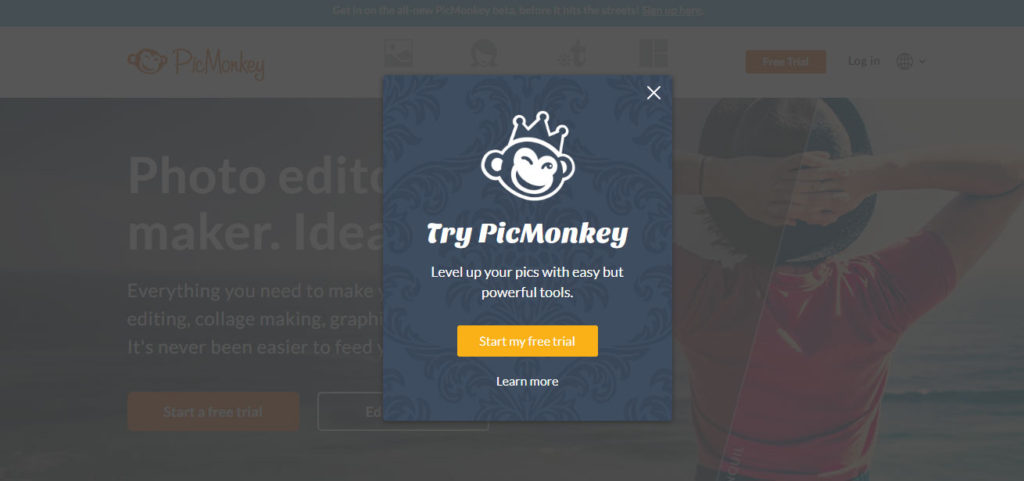 PicMonkey is another online photo editor that is very popular among bloggers. It comes with a 7-day trial.
You can try both of them and after that decide which one you like most.
Want to learn how to earn your very first affiliate sale in 24 hours? Check out here.
Do give a try and set up your Pinterest account. In due time you will be making money on Pinterest.
Happy pining!
You Might Also Like…
Disclosure: I sometimes use affiliate links to products that I recommend, this means that, at zero cost to you, I may earn a commission if you buy something through my links.
Spread the love, share with your friends
---