How To Create A Successful And Profitable Blog
Last updated on April 15th, 2019
The number one question for every blogger who is looking for blogging as a way to change their life I believe will be:
How to create a successful and profitable Blog?
Their goal: To be able quit their 9 to 5 job, able to travel around the world without worry about money supply or provide a better life for the family, etc.
In my Secret of driving massive traffic to your new blog, I shared about how many blogs are there on Tumblr alone. It's massive!
Thus, if your goal is to make money blogging, you must have a plan. A blogging plan that guides you to your goal. That is blogging with a plan or a roadmap to build a successful blog.
Blogging With A Plan?
Yes! How to blog with a plan is what I will share with you today in order to create a successful and profitable blog. To be frank, when I just started blogging a few months ago I have no plan at all. It is not because I do not believe in it but because I do not know how to create an actionable plan.
I will normally write a post and post it on my blog. Hopefully, Google will find my posts and someone will visit my blog one day. To make money blogging…… I am thinking it will one day if I get enough visitors.
Things started to get very boring as there are no visitors to my blog. A lot of question started popping into my head. Such as maybe the posts I wrote were boring, too common, no originality, etc.
By now I am completely lost in my first month of blogging. I realized at that time I need a roadmap, a blogging plan, a guide or something!
The Billionaire Blog Club

I chance upon this Free 12-day Blogging Bootcamp course and I decided to join. While going through this course I got to know about their 28 days blog challenges:
There are a total of 4 blog challenges catering to the different level bloggers:
Launching your blog & getting 10k pageviews

How to gain your first 1,000 subscribers

How to reach $1,000 in revenue

Creating your first paid product
I have a choice to purchase one challenge or all of it.
At that time they have a great offer to join their Billionaire Blog Club (BBC)- Now Dare To Conquer which will include all these 4 challenges + all the courses available at a special price. Since I will be needing all these as I progress in my blogging journey, I decided to join the club.
Courses available:
Billionaire Blogging SEO

BoardBooster Masterclass

Billionaire Niche Selection

Billionaire Pinterest

The Billionaire Pinterest Blogging Manual

Billionaire Affiliate Marketing

Intro to Email Marketing

Google Analytics

WordPress

Content Creation
I spent my whole February taking the 28 days blog challenges: Launching your blog & getting 10k pageviews. Even though I already launched my blog, I still find it very informative and still have things to learn.
Concurrently, I am learning the Billionaire Blogging Pinterest course too. My page views drop that month as I am no longer doing the FB blog support sharing and I only wrote two posts that month.
I started implementing the Billionaire Blogging Pinterest strategy at about end of Feb. Thus I am still able to have a page view of 372.
This is how my GA look in Feb.
In March, I have more than triple my page views as I continue implementing what I have learned from the course.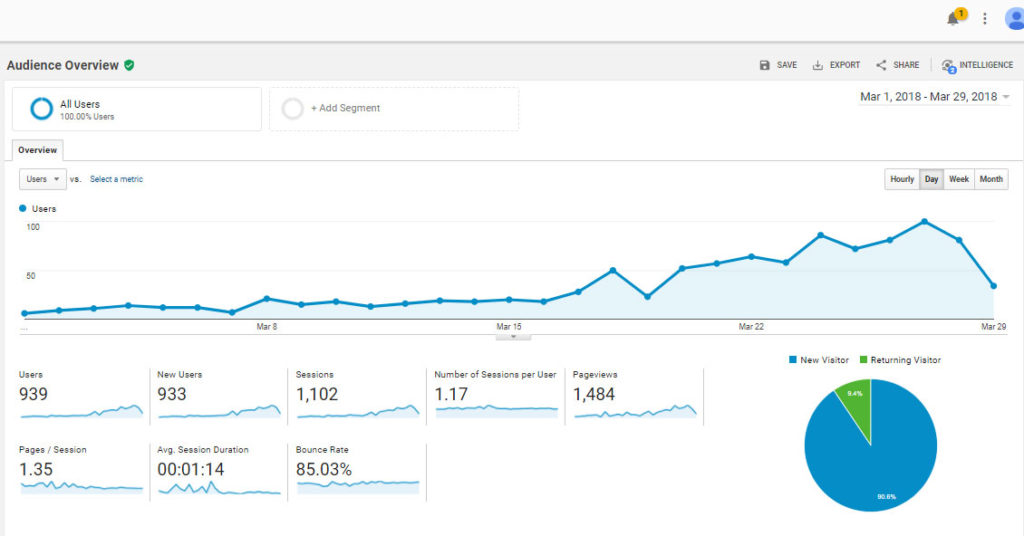 Blogging Milestone
There is this Blogging milestone section in this course which I find it very useful. It helps you to set goals for your blog that you can achieve without feeling overwhelmed by blogging.
Blogging is a journey and it's important that you understand the different milestones that you reach as you move along the journey.
Once I completed a milestone, I will set my goal on the next milestone I want to reach for my blog. With this goal in mind, I can be more focus when I am blogging.
March is a very productive month for me. Besides an increase in page view, I have also started my Email list building. As of now, I have about 28 subscribers.
After I joined BBC, I realized that blogging doesn't have to be so challenging. With an actionable plan, BBC course does make it much more simple and easy to follow.
Billionaire Blog Club Community
Billionaire Blog Club (BBC) is more than just a course. It is a community of bloggers that understand it does take work to make money online.
Currently, there are 600+ different level bloggers in this club. If you have any question regarding blogging or about the course that you do not understand, you can log into Slack and there will be helpful bloggers there to answer your questions. It is an awesome community that comes with this membership.
Who is Paul Scrivens?
Paul Scrivens aka Scrivs is the founder of Billionaire Blog Club (BBC). He is also my mentor in this course. He runs 10 over blogs in order to learn and understand how to have a successful and profitable blog across those niches. With his vast experience and his willingness to teach that's what made BBC courses so great.
Here are some of his blogs:
If you need to talk to him, he is there at Slack chatting and answering the questions with the community bloggers. He is always ready to help!
Lifetime Membership
Did I mention BBC offer a lifetime membership? That means once you joined, your membership will be forever. Any update, you will automatically be upgraded.
Billionaire Blog Club (BBC) sound so good, isn't it? Because it is!
One thing I need to highlight is that this is not a get rich community. Buying the course does not guarantee you that you will have a successful and profitable blog if you are not willing to work for it.
Just like enrolling in a medical school does not guarantee you that you will be a doctor. You still need to study and pass the exam.
Do you believe that blogging will help you to change your life? No more 9 to 5 job, no more long hours of work.
Are you ready to change your life? If you are, you seriously need to check this course out:
Billionaire Blog Club (BBC)- Now Dare To Conquer
Not ready yet, check out and join their Free Blogging Bootcamp: Dare To Conquer Business Bootcamp. (courses include – Blogging, SEO, Pinterest and Affiliate Marketing)
Related posts:
Disclosure: I sometimes use affiliate links to products that I recommend, this means that, at zero cost to you, I may earn a commission if you buy something through my links.
Spread the love, share with your friends
---