Secret Of Driving Massive Traffic To Your New Blog
Last updated on May 3rd, 2018
Have you started a blog? If not, you might be interested to read one of my posts "How to start a WordPress blog in 4 simple steps"
If you have not started a blog because you think that it is very challenging. What I am going to share with you now might be shocking to you. The true fact is, starting a blog is the easiest part of your blogging journey. That is what I have learned in this few months of blogging.
What! Starting a blog is the easiest part???
Yes, it is! In life, there are things we can be of control and things that are not controllable. Starting a blog is within your control. You decided from the beginning what theme, font, colour and topics to use and write about on your blog. As all things that are new, you just need to spend the time to learn it and master it. Your blog will be what you wanted it to be. All within your control.
Now, if starting a blog is the easiest, what is the most difficult part?
When I started this blog, what I want to achieve in my first year is that my audience-to-be will find my posts of value to them and hopefully they will share it with their friends whom they think will benefit from it too.
Slowly my page views will increase over time and I can move on to my next step. But planning is one thing, it might not goes as I planned. If you think that as long as you have posted some posts on your blog, people will just magically find your blog and read your posts. The cold hard truth is, that is not how it works.
My very first post, nobody read it as there is no visitor to my blog. If you are a new blogger, I believe you can understand what I am saying right now. This is the part that we, as a blogger have no control over it: Our Blog Traffic. 
Do you know how many blogs there are right now? Tumblr shared in their posts stated that their cumulative total blogs from May 2011 to January 2018 are close to 392 million blog accounts. Their total posts from May 2011 to January 2018 is 154.1 billion posts. This is just one site, how about the rest: Bluehost, Shopify, etc. It's huge! 
With this information on hand, how will you react? You can either feel intimidated and never start a blog or you will feel excited as there must be something in blogging that makes everyone want to be part of it.
So, The Question Now Is "What Is The Secret To Drive Massive Traffic To Your New Blog"?
The secret of driving massive traffic to your new blog is not really a secret after all. I should say is an "open secret". The way I see it is more on "how are you going to master the skill of driving traffic to your new blog with all these shared secrets"?
There are a few ways to drive traffic to your new blog. Here I will share with you 2 keys method I have learned and still learning to drive traffic to my new blog.
First Key to driving massive traffic to your blog is Write Great Content

:
I personally believe this is the most important of them all. Great content is the key but what is great content? In my opinion, great content is something that your audience will find it useful to them or it solved one of the problems they are facing. 
The problem right now for me as a new blogger is I don't even know who my audience is? Thus, I blog about my own personal blogging experience: What problem I am facing while blogging and how I solved it. I shared the resources that I used on my blog as I felt that my audience-to-be might be interested too. That is why I welcome comments. If any of my posts have added value to you, do leave a comment to let me know. If it did not add any value, let me know too, so that I can improve. 
One thing I have to make myself clear is that having a great content does not guarantee traffic to your new blog immediately. The reason is, with so many blogs out there, it will be kind of difficult to find your new blog.
So what is the reason for writing great content? The reason is when you start to promote your blog, if your audience-to-be finds it valuable to them and like what they read, they will continue to visit your blog. If your content does not add value, they will just be a one time visitor. Moreover, Google loves blogs that produce great content but to wait for Google to rank is going to take time. No matter what is the reasons, I strongly believe writing great content is the key to successful blogging.
Note: If by any chance you are like me, still learning how to produce "great content". Please do not stress over it even if any of your posts is not "great" enough for you. Blogging is a journey, you will learn how to as long as you keep writing. Do not give up ya!
Promoting is the second key to drive massive traffic to your new blog?
You can either use the money to pay for your website traffic or use a free method to drive traffic. For me, I love the FREE method. 
Have you heard of social media? I bet you have! That is why I say earlier that the secret is not a secret after all. I believe all social media can and will bring you massive traffic to your new blog if you know how to and also how long it takes to see the result. With so many social media which one will you start with? 
Even though I have a Facebook account, an Instagram account, a Twitter account and a Pinterest account. I decided this year I will only concentrate on Pinterest to build my blog traffic because what I have read is that you will see the result faster.
If you have not convert your Pinterest account to business account, I would advise you to convert it now. As with business account, you will be able to view your Pinterest analytics. By the way, it's FREE to convert.
This is how my Pinterest analytics look like when I first started: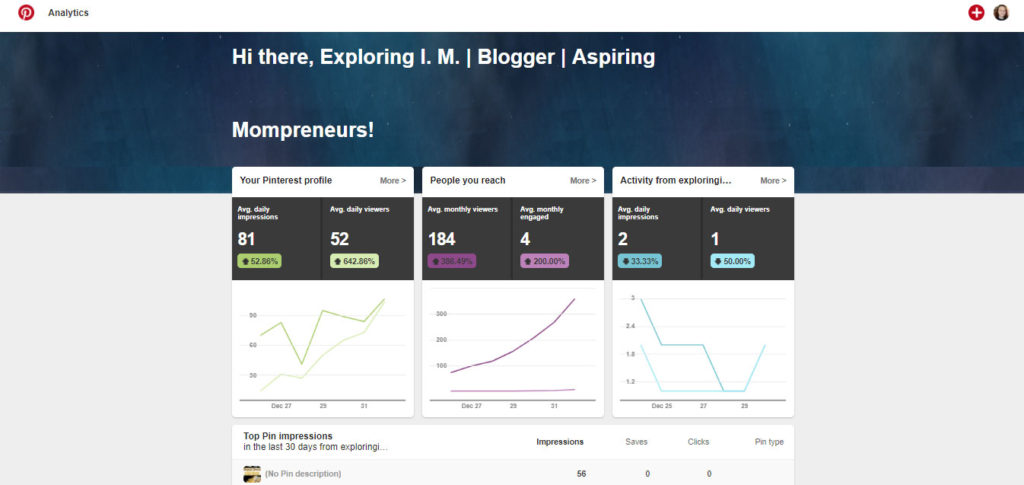 This is how my Pinterest Analytics looks like now. Consider this is in my second month.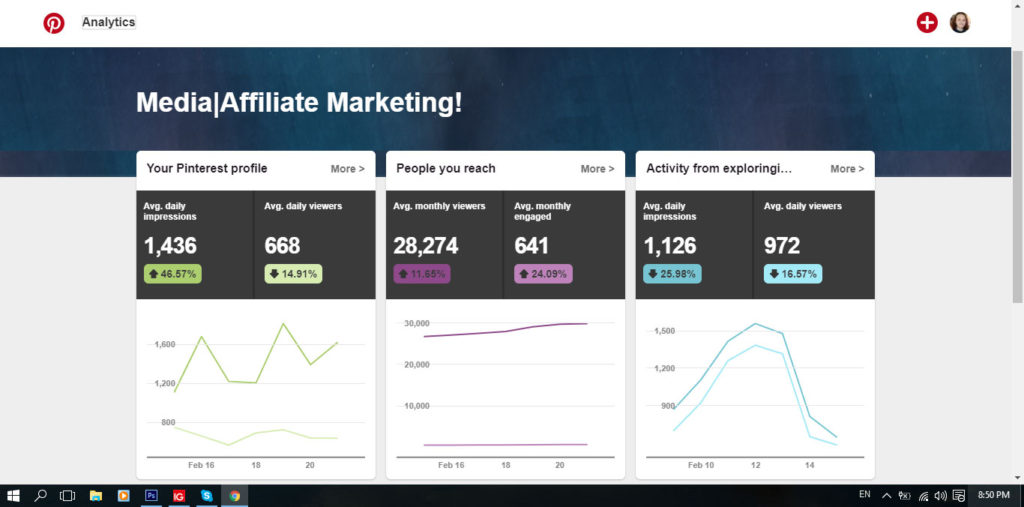 As you can see, I am now driving traffic to my blog using Pinterest. It is not massive yet but in time it will. Do you have any idea what is the possibilities?
Look at all the posts bloggers are sharing regarding using Pinterest to grow their blog traffic. 
Grew my blog's traffic by 800%

How we increased Pinterest traffic to our blog by over 1500%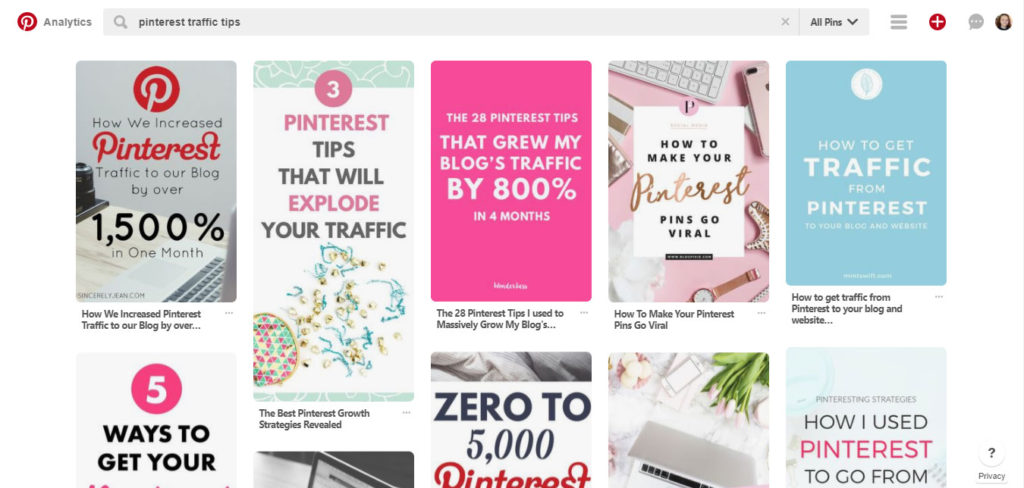 That means I am only scratching the surface.  I still have a lot to learn. My target is to bring my new blog page view to 10k using Pinterest.
Initial, in order to learn this Pinterest strategy, I visited a few blogs and read about what they shared. If I did not fully understand, I will visit another blog.
But I find that I am using too much time hopping from one blog to another. Thus, to better use of my time to master this strategy systematically,  I decided to invest in a Pinterest course where all the information I needed is already there.
The thing about Pinterest is it is forever changing and updating. If I purchased the course now will it be outdated in 6 or one year time? I do not want to waste my money.
I search around and found this course that promise me that "I buy once and never have to buy again". That means everytime the book is updated, I'll get the update for free. SWEET!
This Pinterest course comes with two version: Pinterest Manual – E-book and Pinterest – Video Course (update: now only available to BBC members). It really depends on what you like: e-book or video and the price, of course, will be different too.
Do note that you do not need to purchase a course to learn Pinterest strategy.
I still have a lot to learn about Pinterest. This method will be my main focus this year or even next year. See how it goes.
Focus on one social media and be great at it before you add another to your list. This is what I tell myself every day.
Related posts:
This is what I have learned and doing right now to drive traffic to my new blog. 
Disclosure: I sometimes use affiliate links to products that I recommend, this means that, at zero cost to you, I may earn a commission if you buy something through my links.
Spread the love, share with your friends
---