Celebrate My Small Successes
Last updated on May 3rd, 2018
In life, we often set a goal to achieve something but when we did not reach our goal, we become disappointed and sometimes even give up. All those sleepless nights and all those planning just when down the drain. How many of us actually look back and see how far we have traveled since day one. Do you ever realize that every step we made we are getting closer to our goals? Even though we have not achieved it yet, shouldn't we be celebrating all these small successes?
It's month end again. This is the time where all senior bloggers will be blogging about their income report for the month. For me as a new blogger, I have no income to report but I decided to turn it into a celebration of my small successes. 
What Have I Achieved This Month?
I have started my own blog:
Yes, you did not read wrongly. Starting a blog is my greatest achievement so far. Always wanted to start a blog but never have the guts to do it. I am a person that thinks too much and worry too much. Overthink things is what I do best.
Not good at expressing my thoughts in writing is one thing. I also tend to write very slowly and I can take weeks just to write a single post. Will I make it? All these questions will keep circling in my mind over and over again till I give up thinking of starting a blog.
I can accept failure. Everyone fails at something. But I cannot accept not trying. – Michael Jordan
This quote changes the way I think. What is a failure? Failure is not the end of the world. Failure is just the end of an idea or a dream. Most important is to learn something from this experience. 
A person who never made a mistake never tried anything new – Albert Einstein
With these quotes in mind, I started my blogging journey. I even converted my Instagram account to include all these quotes that motivate me on this journey.  You can visit my Instagram account at Exploringim if you needed some motivation too.
Self-promotion time! : -) If you like my Instagram page, do follow me. I am giving myself a challenge this year. Current Goal to have 5000 followers by end of this year. Thank you in advance if you choose to follow me. 
I Have Written 4 Posts:
Even though I am slow in my writing, I still able to write 4 posts this month. Of course, this is way too little according to industrial standard. But you must understand this is my blog, I set the standard. Your's too! 
My Pinterest Account:
This is how my Pinterest account looked like when I first started. This was taken on 03-01-2018. Not much to see as all new account.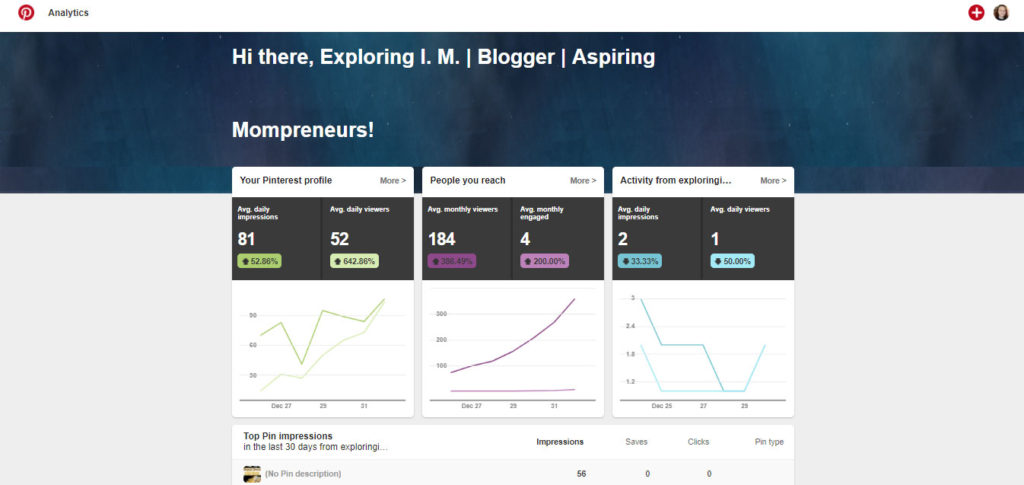 This is how my account looks like right now. Taken on 31-01-2018.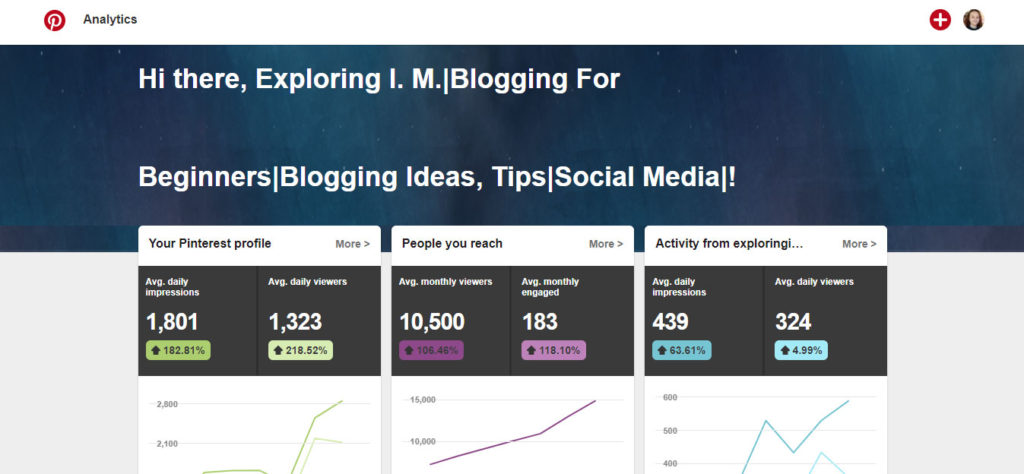 Do note that I did not use any scheduler such as Tailwind or Boardbooster.  All were done manually till this date.  Why, because I want to know how it is like to do manually and what kind of result will I get.
I am very pleased with my result. As of now, I have 155 followers and 19 awesome Pinterest owners have accepted me into their board group. A big "Thank you" to them!
Did I earn money this month? Actually, yes I did. I earned $1.06. I started this project or should I say an experiment two weeks ago. Within two weeks, I started to earn money. Will it continue or it will just die off? Only time will tell. 
Are you disappointed this month because you did not reach your goal? Don't be! Let's celebrate all your small successes before your big success come. Blogging is a journey don't stress about it. 
Related posts:
That is all for today. If you have any questions about this post, feel free to comment below. Do remember to celebrate every small success you have achieved.
Spread the love, share with your friends
---